Posted on August 15, 2017
A Tale of Two Taverns
Virginia sure has tons of haunted taverns. We have blogged about many of them, including the Swan Tavern in Yorktown; the Raleigh Tavern and the King's Arms in Colonial Williamsburg; and the Hanover Tavern in Hanover County. But there are two very interesting taverns in Williamsburg, which are linked together by their complicated history of ownership: Shields Tavern and Wetherburn's Tavern. Both are also rumored to be haunted.
Shields Tavern
Don't let the warm, inviting atmosphere of Shields Tavern mislead you. Located on 422 East Duke of Gloucester Street, Shields Tavern offers both food and frights in an 18th century atmosphere.
During the mid-1700s, Colonial Williamsburg had approximately seven licensed taverns. Licenses were given to colonists on an annual basis. Shields Tavern first opened in 1705, shortly after the Capitol was completed. It operated under the name Marot's Ordinary. Its owner at the time was a man by the name of John Marot. The tavern had a parlor, a second story, a wine cellar, a bar, a sundry goods shed, and even a garden room. Its prime location (in downtown Williamsburg) and size made it a popular place for locals to eat, socialize and hold business meetings. Weary travelers would book rooms and lodge at the well-furnished Shields Tavern.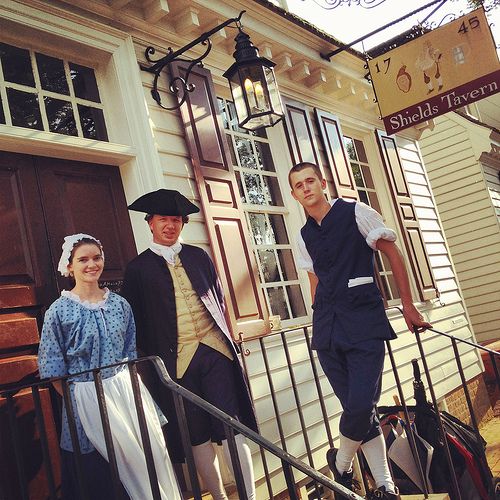 In July 1709, John Marot affixed an eastern addition to the tavern. While the main building housed the kitchen, this new portion contained the billiard room and guest rooms. Evidence suggests that many of these lodgers supplied their own furniture while staying at Shields Tavern.
During Marot's time, Shields Tavern catered to the gentry class. William Byrd II, for instance, was one of its fans. Byrd, born on March 28, 1674, was a wealthy British planter and writer from Henrico County. Byrd spent most of his childhood in England, though, and studied law at London's Middle Temple. By the age of twenty-two, he became a fellow of the Royal Society. This honor is granted only to people who "have made a 'substantial contribution to the improvement of natural knowledge, including mathematics, engineering science and medical science.'"1
When Byrd's father passed away in 1705, Byrd returned to Virginia. "As principal heir to his father's great estate, Byrd was one of the wealthiest men in the colony"2. He quickly began to build his political career in the New World, becoming a member of the governor's Council in 1709 and then the General Assembly's London agent in 1718. William Byrd II is also famous for founding Richmond and authoring The Westover Manuscripts.
After John Marot passed away in November 1717, wealthy Virginians like Byrd stopped frequenting Shields Tavern. "Like most long term businesses, this one experienced periods of both prosperity and decline […] Marot's widow and others operated the tavern, but never as successfully as Marot."3 The tavern's clientele shifted from the well to do to the middling class. According to some stories, John Marot was murdered by a man named Francis Sharpe.
Marot's wife, Anne, received life rights to Shields Tavern. She managed Marot's Ordinary for several years, but then moved to Amelia County in 1738. She was remarried by then, to a man from York County by the name of Timothy Sullivant.
One of her daughters, also named Anne, soon became the tavern's new owner. Anne purchased it from her sister, Edith, around 1745. Anne was married to a man named James Shields at the time. The property thus became formally known as Shields Tavern. James was Anne's second husband, and she his second wife. James also owned "plantations at Skimino and on Mill Swamp"4, horses, and several slaves.  A few of them are reported to have worked at the tavern, alongside the Shields couple. James and Anne slept upstairs with their five children, in what was known as the chamber. According to archaeological evidence, the chamber was connected to the kitchen.
The Shields couple made several renovations to the tavern during the early 1740s. The eastern section's hall functioned as the tavern's main public space. It had a fireplace and opened off to the tavern's other rooms, including the bar. The parlor and garden room were more for private gatherings. The upstairs rooms were dedicated to lodgers, but there was also a room on the lower floor available for rent.
After James Shields died in 1750, he left the tavern and other personal effects to Anne and the two daughters he had with his first wife, Elizabeth. Anne Marot Ingles Shields oversaw the tavern until she married Henry Wetherburn in 1751. Shields Tavern then was purchased by Daniel Fisher, who changed its name to the English Coffee House. Fisher sold coffee, tea and wines at his establishment. When business began to decline, Fisher turned it into a grocery store. Then, in 1754, a fire erupted at the property, damaging it considerably.
In 1770s, Shields Tavern was owned by a Williamsburg merchant named William Goodson. Rather than operate a tavern from there, Goodson leased parts of the property to others, including a blacksmith named John Draper and Doctor John de Sequeyra.
Throughout the early 1800s, the property which was once Shields Tavern changed through multiple hands. Around 1858, an article in the newspaper Williamsburg Weekly Gazette announced that the building had been ravaged by a mysterious fire. The property's next resident, a Mr. Moss, restored the site and opened two large shops there, from which he produced carriages, buggies and wagons.
In the year of 1989, the building was reconstructed as a tavern by the Colonial Williamsburg Foundation. Today, it offers diners an assortment of food inspired by 18th century fare, including5 "Crayfish and Shrimp Stew," "Ann Shields' White Beans, Kale & Sausage," and "Ale-potted Beef."
According to one woman, Shields Tavern is haunted by an reenactor named "John Lowe who for many years portrayed James Shields"6. The woman was re-visiting the tavern after Lowe had passed and claims to have felt his presence in the eatery's restroom.
The street in front of the tavern is said to have been where a girl was killed after being hit by a carriage. People who have taken photos in front of Shields Tavern have had their snaps come "out looking like a black mist, that look over most of the picture"7.
Wetherburn's Tavern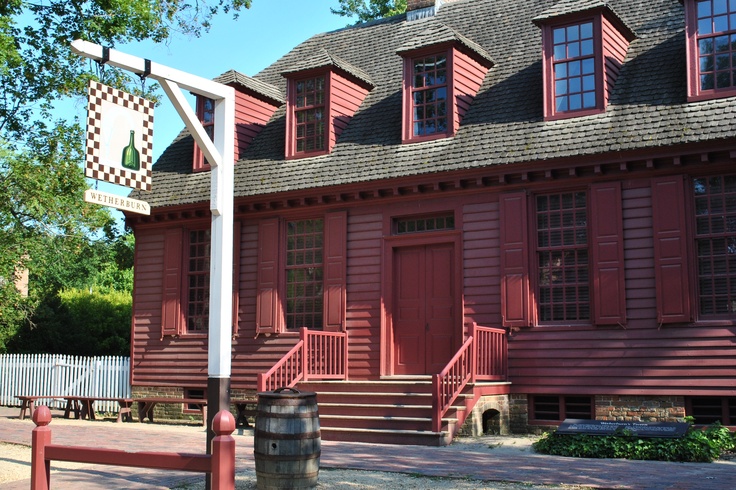 Shields Tavern is located right by another haunted 18th century eatery, Wetherburn's Tavern. While Shields Tavern catered to the lesser gentry, Wetherburn's was frequented by the upper class. The two taverns are linked by blood. After James Shield died in late 1750, his widow, Anne, married Henry Wetherburn.. With his marriage to Anne, he could now also include Shields Tavern in his list of thriving businesses. Wetherburn was already a well established tavern keeper in the area. He had been working at the Raleigh Tavern since 1731, for example, and had also purchased the popular Richard Bland Tavern in 1734. The Richard Bland Tavern's famous "Bull Head Room" was furnished with rare pieces of furniture and was named after the massive stuffed bull head placed above the mantel. It was where elites like George Washington dined.
When the Raleigh Tavern changed management in 1742, Wetherburn (who lived right across the street) decided to turn his home into a competing watering hole. By the mid-1700s, Wetherburn's Tavern was one of most successful eateries in Colonial Williamsburg.
Around 1750, Henry Wetherbun added a new room to his tavern. The "Great Room" was a large entertaining space that hosted important meetings, fun dances and elegant dinners, including the one celebrating the arrival of Lieutenant Governor Robert Dinwiddie in 1751. Dinwiddie was born in 1692 in Glasgow, Scotland. According to historians, Dinwiddie helped precipitate the nine year French and Indian War. "His policy of corporate and imperial advancement led to conflict with the French and the defeat of Virginia forces under George Washington at Fort Necessity in 1754."8
Wetherburn's Tavern was also where members of The Ohio Land Company, including Dinwiddie, George Washington and George Mason, gathered to talk business. The Company was founded by Virginian planters in 1747. It sent out surveyors to explore the United States and define boundaries for settlements. The lands to the west of the Appalachian Mountains were of prime interest. The Company was chartered by King George II of England in 1749. The King granted The Company with 200,000 acres of land near the Ohio River. In return, The Company "promised to settle 100 families in the area and erect a fort to protect them and the British claim"9.
On November 19, 1750, Henry Wetherburn passed away and an extensive inventory was taken of his personal assets. His wife, Anne, obtained control of the tavern. After she died, Wetherburn's Tavern changed through the hands of various tavern keepers, including James Southall and Amrbose Davenport. Then, in 1785, William Rowsay bought the property and transformed it into a store. The former tavern then went through a series of other uses, including a home, a boarding house, even a girl's school. Beginning in 1966, the Colonial Williamsburg Foundation began to restore the tavern to its original 18th century appearance.
A woman named Joyce Garner has worked at Colonial Williamsburg for several years. She believes that Wetherburn's Tavern is haunted. One of her friends had set up candles in the tavern's parlor room, to prepare for an evening event. "When she came back in to light the candles, all of them had been knocked to the floor."10 Could it have been an unruly spirit who had caused the mess?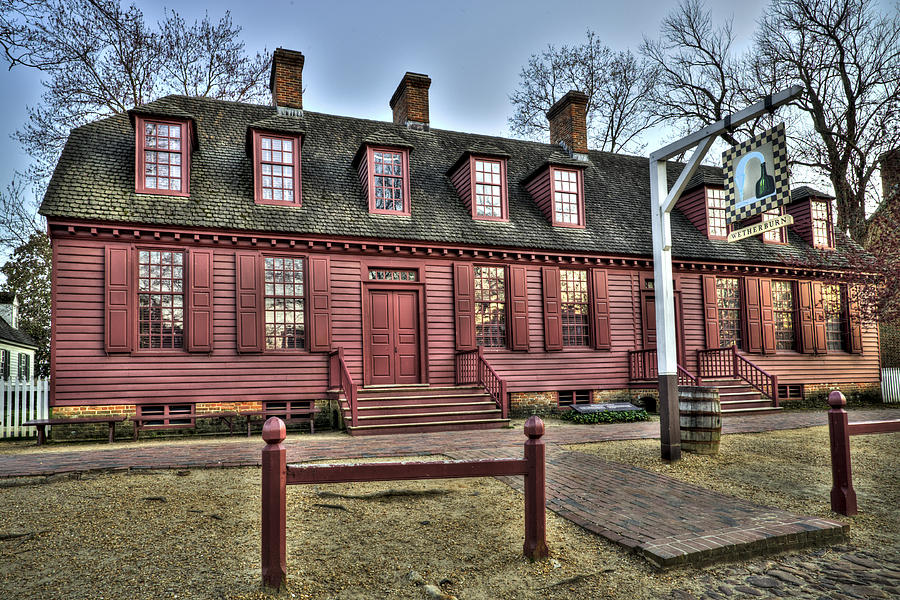 Works Cited
1. "Elections." Types of Fellowship. RoyalSociety.org. 2016. Web. 17 July 2016. Para. 2.
2. Long, Thomas L., Martin H. Quitt and the Dictionary of Virginia Biography. "William Byrd (1674-1744)." Encyclopedia Virginia. Virginia Foundation for Humanities. 6 March 2016. Web. 17 July 2016. Para. 7.
3. "Story of James Shield II and III from Family Tree Maker at Genealogy.com." 22 August 2014. Web. 17 July 2016. Para. 5.
4. "James SHIELDS / Anne MAROT." RootsWeb.Ancestry.com. 31 July 2004. Web. 17 July 2016. Para. 4.
5. "Shields Tavern." Menu. OpenTable.com. 2016. Web. 17 July 2016.
6. West, Rachel. "GHOSTS AND GHOULS HAUNT WILLIAMSBURG'S COLONIAL HOUSES." MakingHistoryNow.com. 6 October 2015. Comment by Christine Hansley, shared on 6 October 2015. Web. 17 July 2016.
7. Sent in by Lola. "Shields Tavern Ghost Walk in Colonial Williamsburg." TrueGhostTales.com. 26 January 2010. Web. 17 July 2016. Para. 4.
8. Shrock, Randall and the Dictionary of Virginia Biography. "Robert Dinwiddie (1692-1770)." Encyclopedia Virginia. Virginia Foundation for Humanities. 21 March 2016. Web. 17 July 2016. Para. 1.
9. "Ohio Company of Virginia." U-S-History.com. n.d. Web. 17 July 2016. Para. 2.
10. Ross, Jessica A. "THE UNTOLD GHOST STORIES OF COLONIAL WILLIAMSBURG." MakingHistoryNow.com. 31 October 2014. Web. 17 July 2016. Para. 6.