Posted on August 15, 2017
King's Arms Tavern
Haunted tavern – still operating and steeped in history.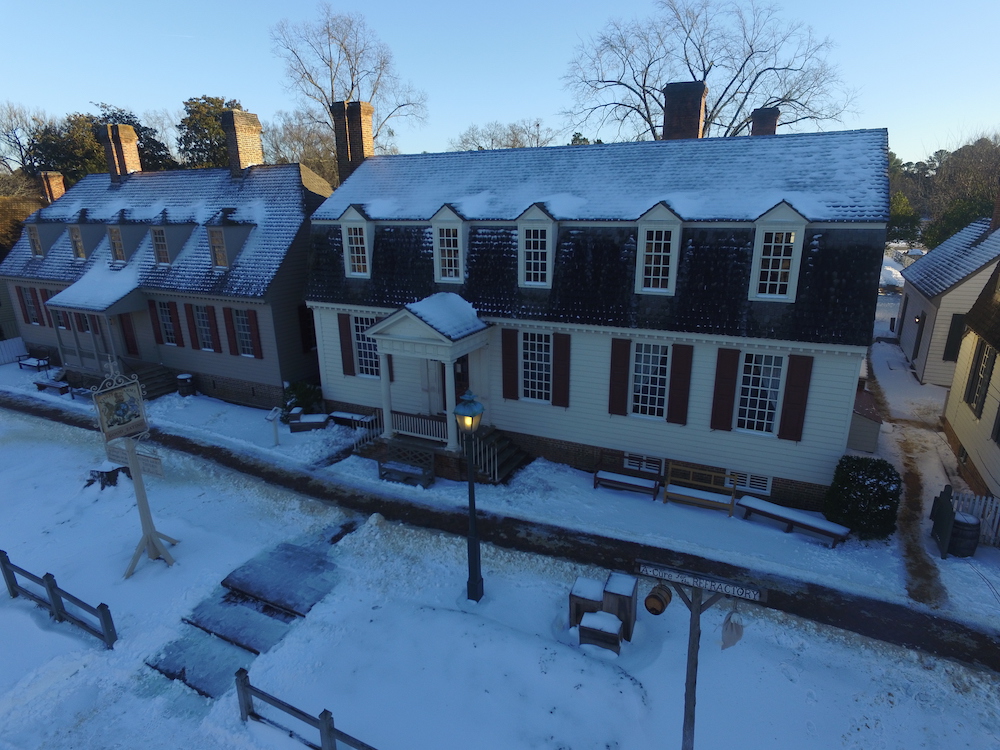 On February 6, 17721, a woman named Jane Vobe opened a tavern on East Duke of Gloucester Street. It became one of the liveliest places in Williamsburg. Genteel colonists would gather there to enjoy live music, friendly service, and of course good food. Today, King's Arms Tavern operates just as it did nearly two and a half centuries ago. Waiters are dressed in traditional 18th century gear, for instance. While taking and dropping off orders, they share "news" and "happenings" – the latest gossip of colonial Williamsburg. Meanwhile, musicians stroll through the rooms, playing period tunes. As a result, patrons feel as if they have truly stepped back into time.
At King's Arms Tavern, tourists can enjoy chophouse classics in a very elegant setting. Menu items, like whiskey-brined pork chops and hand-cut beef filets, are inspired by the hearty meals of the colonial times. One of the taverns specialties is its "Hunters' Game Pye" – a savory mix of venison, rabbit, duck, bacon lardoons and aromatic vegetables baked under a flaky pastry crust.
King's Arms Tavern is also said to be haunted. A woman named "Irma," who worked and died at the tavern, is the restaurant's famous resident spirit. Some say that she was one of the first live-in managers at the restaurant. She was killed when a bad fire, caused by a dropped candle, ravaged the building. Thus, whenever a candle mysteriously goes out on its own at King's Arms Tavern, people assume that it's Irma. Others insist that she "was actually an employee of Colonial Williamsburg,"2 who simply died of a heart attack in one of the tavern's upstairs rooms.
Whatever her background story, Irma joins the legion of ghosts that has helped make Williamsburg a popular ghost hunting destination. She has been described as a friendly spirit, who enjoys helping out staff. According to rumors, appreciative workers often wish her a good night every evening.
The décor at King's Arms Tavern, like its food, mimics that of a classic colonial pub. Tableware, furniture, even the tavern's "pewter salt and pepper shakers"3 replicate those that existed during the colonial era. The wallpaper is red and there are brass wall sconces.
Taverns, or "ordinaries," were very important places during the colonial times. In fact, if a town did not have one, it had to pay a fine! This was stipulated by the General Court of Massachusetts in 16564. Of course, not just anyone could open and run one of these institutions. A colonist had to be offered a license by the county first. Officials would typically seek out widows, "to keep them off the county dole."5
The nation's first tavern was opened by Samuel Cole, on March 4, 1634, in Boston. One of Virginia's earliest taverns is The Hanover Tavern6, which was opened in 1733 and is located in the Hanover Country Courthouse. It was not uncommon for a colonial tavern to be a part of another building. That's because many served purposes beyond filling empty bellies. The Hanover Tavern, for instance, has operated as a post office, bank, general store, cabinet shop, even a barber's salon. In another local tavern, the Massachusetts General Court heard and tried a few, 18th century district cases. Many taverns also offered lodging, with rooms available on upper floors. This was great for travelers – they could eat, sleep and get drunk without ever leaving the building!
During the 18th century, Williamsburg had countless taverns. During the Prohibition era, many of them lost customers to speakeasies. The Volstead Act, enacted on October 28, 1919, made it illegal to produce, sell and consume alcohol in the United States. Speakeasies, also known as "blind tigers," were where thirsty colonists would secretly go to "break the law." When Prohibition ended (in 1933), people went back to drinking in taverns.
Some colonial taverns are still standing, but no longer operate as restaurants. King's Arms Tavern is a rare and cool exception, which has been applauded by various reviewers. Many say that it's the experience, versus the food, which make the restaurant so memorable. Other taverns in colonial Williamsburg (which you can still dine at today) include Christiana Campbell's Tavern, Shields Tavern and Chowning's Tavern.
King's Arms Tavern is also steeped in history. One of the nation's "first ordained black ministers"7 used to work there. Mentioned in records as "Gowan Pamphlet," this brave man was among a small collective of slaves and free blacks who founded the First Baptist Church of Williamsburg in 1776.  At first, the group had to meet secretly in the woods, in order to avoid arousing their masters' suspicions. They were later given use of a "carriage house on Nassau Street"8, by a man who was very moved by their powerful hymns and stirring prayers.
After leaving his humble job at King's Arms Tavern, Gowan Pamphlet became a pastor at the First Baptist Church. He was freed from slavery in 1793.
Pamphlet's master was actually Jane Vobe, the woman who opened and ran King's Arms Tavern. During her life, Vobe managed multiple taverns, in Williamsburg and in Manchester. Some say that she was trained by Thomas Vobe, "who operated an ordinary in Williamsburg and whom she might have married."9
Ms. Jane Vobe was a shrewd business woman. She targeted genteel men as her customers, especially politicians and government officials. She was keen to cater to all their needs, so made sure her establishments were always very close to the Capitol. George Washington and Thomas Jefferson were among her famous fans.
Vobe relied on enslaved African Americans, like Gowan Pamphlet, to run her taverns. However, she was a very kind master. She sent two of her younger slaves to school, for example, and allowed four others to be baptized at the Bruton Parish Church.
Vobe began advertising for a cook and waiting staff for her newly opened pub "at the Sign of The King's Arms"10 early in February 1772. During the great American Revolution (1775 to 1783), The King's Arms Tavern was frequented by many military folk and politicians, who gathered there to talk strategy and share the latest happenings. Broadsides, summarizing newsworthy events, were also often posted on its walls. Unsurprisingly, tavern keepers like Jane were known to be the best-informed people in town.
Thus, inns and taverns were especially important during times of war. They were great places to learn new information, even eavesdrop. John Adams, for instance, enjoyed going to taverns because he could "get a sense of peoples' moods."11
A tavern's reputation was often gauged by the quality of its ale, but colonists were also fans of hard liquor (rum being the "perennial favorite."12)
After her multiple successes in Williamsburg, tavern keeper Jane Vobe decided to relocate to Chesterfield County. The Revolution had just ended, and Virginia's capital had been moved from Williamsburg to Richmond. The King's Arms Tavern was thus losing a lot of business. Vobe sold her two-story home in Williamsburg on November 10, 1785, then settled in Chesterfield one year later. Her story is a great example of how white, middle-class women were pivotal in shaping the tavern-keeping trade in colonial Williamsburg.
The current owners of King's Arms Tavern have made sure the restaurant stays modern and relevant. Last year, it joined other local dining establishments in a "best burger"13competition, for instance. All of the ingredients used in the tavern's delectable dishes are extremely fresh. In fact, the tavern has its own garden, in which herbs and vegetables are grown "using historic methods."14 Healthy greens, including kale, green beans and Swiss chard, and hearty root vegetables, like beets and radishes, are harvested every Wednesday.
If you are looking for some good comfort food, with a side of history and friendly ghost, stop by King's Arms Tavern today!
For more on haunted taverns, please read this article on Colonial Williamsburg Taverns 
Works Cited
"King's Arms Tavern, Williamsburg, Virginia, A Taste of Colonial America." City-Data.com, n.d. Web. 21 February 2016. Para. 1.
"King's Arms Tavern." A Haunting We Will Go. Comment by Michael, posted 27 July 2009. Web. 21 February 2016.
"King's Arms Tavern, Williamsburg, Virginia, A Taste of Colonial America." City-Data.com, n.d. Web. 21 February 2016. Para. 7.
Struzinski, Steven. "The Tavern in Colonial America." The Gettysburg Historical Journal, Volume 1, Article 7. 2002. Web. 21 February 2016. Page 1.
"Daily Life of the American Colonies: The Role of the Tavern in Society." A Gothic Curiosity Cabinet, n.d. Web. 21, February 2016. Para. 1.
"The Hanover Tavern." The Hanover Tavern Foundation, 2016. Web. 21 February 2016.
Goeb, Dawn. "Let Freedom Ring! Historic Bell Tolls For Radical Racial Healing." CBN News – The Christian Perspective. 14 February 2016. Web. 21 February 2016. Para. 3.
"Our History." The Historic First Baptist Church, n.d. Web. 21 February 2016. Para. 3.
Richter, Julie. "Jane Vobe (by 1733-1786.)" Encyclopedia Virginia. First published 18 November 2011, Last Modified 24 December 2013. Web. 21 February 2016. Para 2.
Richter, Julie. "Jane Vobe (by 1733-1786.)" Encyclopedia Virginia. First published 18 November 2011, Last Modified 24 December 2013. Web. 21 February 2016. Para 6.
"Taverns." Freedomsway.org, 2010. Web. 21 February 2016. Para. 2.
"Daily Life of the American Colonies: The Role of the Tavern in Society." A Gothic Curiosity Cabinet, n.d. Web. 21, February 2016. Para. 11.
Nicholson, David. "Take the Colonial Williamsburg Burger Challenge this week."DailyPress.com. 26 May 2015. Web. 21 February 2016. Para. 1.
Nicholson, David. "Peninsula chefs ramp up 'farm-to-table' cuisine with restaurant gardens."DailyPress.com. 16 August 2015. Web. 21 February 2016. Para. 7.