Cemetery Tours
3:30 PM
DAILY
For Those Who Are Ready to Make Contact With the Ghosts of Williamsburg, Virginia... in Broad Daylight!
The Colonial Ghosts Cemetery Tour is a daytime walking tour that will take you through four different cemeteries.
The Peyton Randolph House,
The Bruton Parish Cemetery,
The Galt Family Cemetery, and finally,
The Cedar Grove Cemetery.
If you believe you're ready to see past the stone monuments and hallowed Earth of the cemeteries of Williamsburg, Virginia, and catch a glimpse of the other side for yourself, then here is why you should book a Colonial Ghosts Cemetery Tour today.
The Peyton Randolph house and how it's considered to be one of the most haunted buildings in America!
Find out the truth about the real Captain John Smith and one of the reasons why Colonial Ghosts tour guides insist on paying respect to the Native Americans who died here.
Learn the mysteries behind the stone pillar that marks the graves of the famous Tucker Family who held a dynasty of highly respected lawyers and judges throughout England, Bermuda, and the United States, and what this strange and terrible stone has to do with Edgar Allen Poe!
Find out the scandalous reason why Honest Abraham Lincoln would visit the Bruton Parish Cemetery
Who Matthew Whaley was and why he met his demise at such an early age as well as what inspired his mother to refuse to remarry - instead spending the remainder of her life running a school for impoverished youths. (Hint: her son was involved in a heart-warming taboo of the times that ended in tragedy for all, but gave her hope about the world and the people in it!)
Book your tour today!
Get Tickets
You do NOT need to print out tickets. Just bring an ID and show up!
If you must purchase in cash or in person, you may buy physical tickets at Kilwins, located nearby at 421 Prince George Street. You can also try one of their delicious treats! Click here for a map. You must hand these tickets to your tour guide for admission. If you order online, you do not need tickets.
Your walking tour will take approximately 90 minutes. And during those
90 minutes

, here is what you will learn: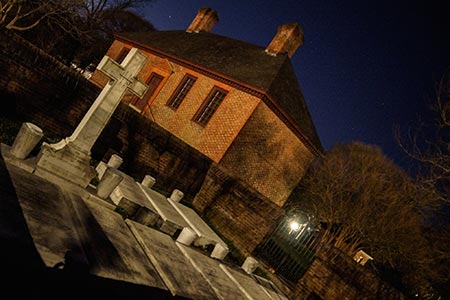 The story of how the confederate spy who dedicated his life to keeping slavery alive, and the wise old man masterminding the end of slavery, came to be buried in the same cemetery… because they were both members of the same family!
What "CSA" stands for, when you find it on these tombstones… a strange acronym from a stranger time!
The most lethal and merciless foe of the civil war, responsible for more death and misery than any single officer of the Union or the Confederacy, and how this heartless adversary brought two innocent children - one free, and one a slave - to their tragic and early demise! (Hint: In honor of one of these children, a local elementary school still bears his name!)
Why Frances Page Whaley was buried across the Atlantic Ocean in England, even though her son Matthew Whaley was buried here in Williamsburg, and even though she loved her son so much she dedicated the last of her life to his memory, instead of remarrying and starting anew.
The U.S. President responsible for Colonel Daniel Custis being buried with only two of his four children, because the other two were buried with this President's wife!
The mystery of Mammy Sarah, the only African American honored in the Bruton Parish Cemetery, and why Leticia Christian Tyler Semple thought she should share her tombstone
Why Richard Bucktrout - perhaps the most famous undertaker in Williamsburg's history - is not buried here with the rest of his family, even though he dedicated his life to giving the citizens of his community, whether they were rich poor, sane or insane, soldier or citizen, proper burials.
The depraved dynasty of the Galts - watchmen of the Public Hospital for Insane and Disordered Minds - and how John M. Galt tried to break tradition and restore the humanity of the patients here - only to meet a tragic and helpless end himself. There is no finer example of the ghastly truth, "the road to hell is paved with good intentions." Bloodletting, salves that caused flesh to blister, and cold water submersion, inducing hypothermia and sometimes drowning, were regular treatments for the insane before John Galt made his stand. But in the end, he too succumbed to the weird and perverse medicines of the 19th century!
Who is Bill Brown, and why does he work so hard to keep those buried at Cedar Grove Cemetery from dying the "second death"?
How Abraham Zimmerman, a mechanical genius whose innovations led to an explosion of economic growth in the farming community of New Holland, became obsessed with a paranoid fantasy that robbed him and his family of all of their wealth, and why citizens of New Holland still come to visit Abraham today, to pay their respects
Why many homeowners in the area have uneven lawns, and what that has to do with the Spanish Flu, the most deadly epidemic in recorded human history, and DuPont munitions plant in Pennimen Village.
The 6 illnesses that rampaged through the barracks of the Civil War, and why they are estimated to have taken two-thirds of the 620,000 lives lost during the Civil War.
The meaning of this mysterious epitaph, "Fred - He Went Into The Future In A Way Few Living Now Comprehend." You will find it on one of the tombstones in Cedar Grove Cemetery.
The intriguing history of the United States Colored Cavalry - and what that has to do with two Union graves you will find with rounded tombstones.
Why the tombstone marked "SC" is covered in marbles, and why her husband's grave is more traditional - this story is sure to brighten your day!
The story of one of the fightingest Americans who ever lived - who started life a slave and ended his life one of the wealthiest, most influential members of his community, even at a time when the law and society outside of Williamsburg was against him. His funeral was attended by 1000s, of all colors and creeds. This is a story you really don't want to miss. His tombstone stands tall, clean and proud over 100 years later.
Get Tickets
What People Are Saying:

September 05, 2017
Nicki was a great tour guide. She was engaging with everyone on the tour and even pulled the kids in... Read More

August 15, 2017
My girlfriend and I had a wonderful time on this ghost tour. We learned a lot of good history in the... Read More
Read All Reviews