Posted on August 15, 2017
Out of the one hundred and seventy supposedly most haunted places in Virginia, only twenty five locations satisfied Colonial Ghosts' huge scares criteria. Rumors were not enough to earn a spot on the list below!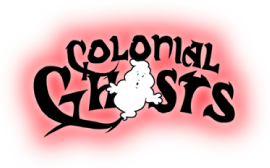 Why is Virginia known to be one of the nation's most haunted states?
Well, to begin with, it is among the country's oldest colonies. The first successful English settlement in America, Jamestown, was established here on May 13, 1607. Its earliest inhabitants, though, are believed to be of Asian descent. These "first Virginians" arrived some 11,000 years ago. After that, the state became the home of various Native American tribes. They were all united under the powerful Powhatan chiefdom by the time John Smith and his crew of European pioneers reached Virginia.
Virginia has thus had plenty of time to accumulate some spooky stories. Before the 1600s, its occupants were practitioners of shamanism and believers in the afterlife. Many Native American ceremonies, for instance, sought to make contact with the dead, even bring them back to life. During the colonial era, Virginia continued to be marked with instances of black magic. Several people were tried for dabbling in witchcraft,wrongly convicted, and sentenced to death. Indian burial grounds and old prisons are thus among the state's most paranormally active locations.
Then there are Virginia's numerous battlegrounds. Whether fights pitted Americans against Indians, the British, or each other, they all resulted in the same thing: high casualties. The state's pivotal location and importance as a hub of commercial and political activities made it the site of several significant Civil War battles. At just one of its parks, (the Fredericksburg and Spotsylvania National Military Park), four major battles occurred. And you can be sure that there are of plenty of ghosts roaming the "bloodiest ground in North America"!
Spooky Happenings
Let's not forget all the gruesome murders, tragic suicides, violent massacres, horrible accidents, and creepy medical experiments that have happened in Virginia. No wonder the state boasts nearly one hundred and seventy supposedly haunted destinations. So how on earth is a fear enthusiast to know which ones are actually worth a visit?
There are a lot of rankings out there, but the problem is that few stem from reputable sources. The so called "hauntings" of many locations are simply based on urban legend and third party claims. Even stories from locals are not always reliable. People tend to over exaggerate and embellish stories in order to scare listeners.
Finally, someone decided that horror hunters need a directory of locations that's well curated, in-depth, and accurate. Presented here are Virginia's Top 25 Most Haunted Places, as ranked by Colonial Ghosts. Know that their recommendations are for true fear fans only – to be included on this list, a site had to have paranormal activities well documented.
Ready for the countdown? Here are the 25 most haunted places in Virginia
25. The Public Hospital, Williamsburg
23. Lightfoot House, Williamsburg
21. Edgewood Plantation, Charles City
20. Spotsylvania Court House, Spotsylvania
19. Staunton Train Depot, Staunton
17. Salubria Manor, Stevensburg
15. Fort Magruder Hotel, Williamsburg
14. Major Graham's Mansion, Wythe County
13. Boxwood Inn Bed & Breakfast, Newport News
9. Weems-Botts Museum, Dumfries
8. Ferry Plantation House, Virginia Beach
7. Graffiti House, Brandy Station
6. Cold Harbor Battlefield, Mechanicsville
5. Historic Jordan Springs, Stephenson
4. Henricus Historical Park, Chester
3. The Exchange Hotel Civil War Medical Museum, Gordonsville
2. St. Albans Sanatorium, Radford
1. The Peyton Randolph House, Williamsburg
Click on the links, and you will be taken to individual blog posts fully dedicated to each location. Learn about the site's origins, owners, architecture… and of course, its spectral tenants. Paranormal investigations, if conducted there, are also referenced. What you get from each article is a brief history lesson and a horror recap.
The goal of this list is to take away the guesswork the next time you decide to take a scare-cation. If you are interested in one of the sites located in Williamsburg, check out the tours offered by Colonial Ghosts. Their guides will certainly take you there, as well as to other creepy spots around the historic city.
If you want to learn more about why Virginia's so haunted, browse through the Researchor Stories section of Colonial Ghosts' blog. This way, by the time you arrive at your chosen destination, you will be an expert on all things paranormal.
Here is a quick summary of each location, to kick off your hunt for horrors.
25. The Public Hospital, Williamsburg
As the first mental institution in North America, The Public Hospital has seen a lot of misery and pain. In fact, one of its superintendents, Dr. John Minson Galt II, took his own life, so stressful was his job. His spirit is believed to still roam the asylum. Other ghosts seen around the creepy hospital include tortured patients and Civil War soldiers, who took over the building during the Battle of Williamsburg.
24.  Crawford Road, Yorktown
If you take your vehicle onto Crawford Road, avoid its old bridge. Scary things have happened when people drive under it. In one instance, a group of friends were attacked by something definitely not of this world. It left handprints all over their car's fogged up windows. An abandoned building by Crawford Road is also occupied by the dead. Visitors report of being watched by red eyes while in the spooky structure.
23. Lightfoot House, Williamsburg
This beautiful, 18th century mansion was originally the home of the wealthy Lightfoot family. Many influential people, including foreign ambassadors and celebrities, thus visited the Lightfoot House during the colonial era. Today, however, it appears that pranksters have replaced the privileged. Employees say that the house has poltergeists that like to mess up beds and cause other mischief.
22. Bacon's Castle, Surry
During its long history, Bacon's Castle has fallen in the path of rebels, Indians… even strange, cosmic fireballs. This historic castle, also known as the Arthur Allen House, has thus fascinated historians and paranormal researchers for years. The castle's ghosts are known to move objects around, shove visitors, and clamp noisily down the stairs.
21. Edgewood Plantation, Charles City
Edgewood Plantation, now a bed and breakfast, has a charming veneer that's quite misleading. During the Civil War, it witnessed much violence and bloodshed. Inn guests thus frequently spot dead soldiers roaming its grounds. The B&B even has a room named after its most famous ghost, "Lizzie." She is said to have been the fiancée of a soldier, who never made it home from the battlefield.
20. Spotsylvania Court House, Spotsylvania
It's not too surprising that Spotsylvania Court House earned a spot on this list. That's because it lies on what is known as the bloodiest ground in North America, Fredericksburg and Spotsylvania National Military Park. There's a lot to explore at the park, but its most paranormally active spot is definitely the "Bloody Angle." Psychics who've visited this location have always gotten strong readings, while ghost hunters have never failed to collect EVPs there.
19. Staunton Train Depot, Staunton
War, fires, derailed trains… the Staunton Train Depot has been a site of both bloody and tragic occurrences. The station's ghosts include Civil War soldiers and victims of train crashes. In 1890, a runaway train tore through the depot, destroying the building completely. Many passengers were significantly wounded, but Myrtle Ruth Knox's injuries were the worst. She was the only one who died, and her spirit is often seen wandering around the station's tracks.
18. Swannanoa Palace, Afton
This stellar but deteriorating mansion has always been the perfect place to shoot some ghostly footage. It was featured in the paranormal reality television show, The R.I.P. Files, in 2014. The palace is said to be roamed by the wife of the estate's original owner, James Henry Dooley. After the property left the hands of the Dooley family, it became a mysterious school called The University of Science and Philosophy. Its founder, the famous artist and mystic Walter Russell, is linked to the Illuminati cult. So besides ghosts, people have also seen strange rituals being conducted at Swannanoa Palace.
17. Salubria Manor, Stevensburg
This stately, Georgian-style house is said to be Culpepper County's most haunted location. Thanks to a recent earthquake, the manor's ghosts are more active than ever. These spectral tenants include Lady Spotswood (the wife of the manor's first owner) and Mrs. Hansbrough, a woman who is said to have hung herself in one of the bedrooms. The mansion also has two cemeteries, where spirits have been seen as well.
16. Paxton Manor, Leesburg
Paxton Manor is the perfect place to spend your next Halloween. Since 2009, the team behind the building's popular Shocktober event has transformed it into a comprehensive scareground, which includes a spooky fun house and hair-raising hayride. But real ghosts lurk among Shocktober's costumed actors. Jedidiah Carver, a previous owner who was known for mutilating animals, is one of the house's most feared spirits. You certainly wouldn't want to run into him in the manor's infamous Well of Souls!
15. Fort Magruder Hotel, Williamsburg
If you're looking for a unique and scary night in Williamsburg, book a room at Fort Magruder Hotel. The property lies on where the epic and bloody Battle of Williamsburg occurred. Guests report of seeing Civil War soldiers in their rooms and even encountering spirits pretending to be hotel staff. Several paranormal investigations have also been conducted at the hotel, during which an abundance of supernatural evidence (i.e. EVP readings and photographic anomalies) has been captured.
14. Major Graham Mansion, Wythe County
The Major Graham Mansion was built in 1826 by a wealthy businessman. For some reason, he decided to construct his home on bloodstained land. In the 1700s, Joseph Baker was murdered by two of his slaves there. His grisly remains were kept in a barrel of moonshine. Major Graham's wife, Martha, also died on the property. She was a depressed woman who eventually went insane. Her husband, unable to handle her madness, is said to have shackled her in the basement. Martha is among the various ghosts tourists encounter during the manor's popular Halloween event.
13. Boxwood Inn Bed & Breakfast, Newport News
During the Civil War, this charming B&B hosted weary Civil War soldiers, including the famous General John J. "Blackjack" Pershing. Today, its rooms retain their original colonial charm and are haunted by a friendly ghost known as Nannie. She's known to help out staff and rouse guests in the early mornings. People have also seen the spirit of an old man at the inn.
12. Public Gaol, Williamsburg
This two-story, brick prison is featured on Colonial Ghosts' comprehensive tour of Williamsburg. From murderers to pirates, the jail's inmates during the colonial times included the city's most vicious individuals. Fifteen henchmen of the infamous corsair Blackbeard were incarcerated there. Conditions at the Gaol were as bad as its occupants (picture freezing cells, terrible food, and widespread typhus.) Visitors have seen shackles move on their own and heard screams coming from cells while touring the prison.
11. Wythe House, Williamsburg
The Wythe House is a beautiful Georgian-style mansion built in the mid-1700s. It was constructed by the nation's first law professor, George Wythe. Wythe was well known in the city for his work in legislature and contributing to the Declaration of Independence. Unfortunately, smarts and honest living didn't run in the family. Wythe's great nephew, George Wythe Sweeney, opted to steal, gamble, and eventually kill his way to money. He poisoned Wythe with arsenic, in order to inherit the family's wealth faster. Today, Wythe's spirit is often heard walking around the house. Another ghost, believed to be of Lady  Ann Skipwirth, has frightened visitors as well.
10. Historic Avenel, Bedford
Historic Avenel, also known as Avenel Plantation, has been confirmed by many paranormal experts to be officially haunted. The property was inherited by William A. Burrell, the secretary of President Thomas Jefferson, in 1831.  It includes several outbuildings, but the main mansion is definitely the most paranormally active. Evidence captured there include EVPs and spooky photographs of eyes. The house is said to be haunted by a cat, as well as a woman known only as The Lady in White.
9.  Weems-Botts Museum, Dumfries
Soak up some history and get some frights at this haunted museum. The house portion of the Weems-Botts Museum was originally a village poor house, where the sick and homeless sought shelter. It then became the home of two famous colonials, Mason Locke Weems (George Washington's first biographer) and Benjamin Botts (a lawyer on Aaron Burr's defense team.) Today, it's haunted by members of the Merchant family. This includes the epileptic Mamie Merchant, who died because of her disease, and her sister, Violet. Violet is often seen through the house's windows, grieving over her dead sibling.
8. Ferry Plantation House, Virginia Beach
Ferry Farm is named after Norfolk County's first ferry service. Eleven ghosts are believed to haunt this beautiful colonial plantation. In the house, people have encountered a woman known as The Lady in White, who died after falling down the stairs. On the grounds, visitors have spotted the spirit of Henry the slave. In 1706, the infamous trial-by-dunking of Grace Sherwood (aka The Witch of Pungo) was held near the plantation. Grace was wrongly accused of causing the miscarriage of a local woman. Whenever there's a full moon, people see her sopping spirit emerge from banks of the Lynnhaven River.
7. Graffiti House, Brandy Station
In 1863, during the Battle of Fleetwood Hill, the Graffiti House was transformed into a field hospital. Troops who stayed there passed the time by signing their names and doodling on the building's walls. But these soldiers have left more than just art work at this historic train station. When people enter the building, they're often overwhelmed by a sense of pain and misery. Objects are also known to move on their own at the Graffiti House.
6. Cold Harbor Battlefield, Mechanicsville
The Battle of Cold Harbor is said to have been one of the nation's bloodiest battles. It lasted for nearly two weeks and resulted in a total of 17,332 casualties. Shots of the battlefield taken by Civil War photographers show grisly piles of skeletons and severed limbs. Decades after the battle, people are still capturing unsettling images: apparitions, strange shadows, unexplainable mists. Visitors also report of feeling watched while they tour Cold Harbor Battlefield.
5. Historic Jordan Springs, Stephensen
Historic Jordan Springs is one of Virginia's few authenticated paranormal sites. Its history dates back to 1549. The area was first inhabited by the Catawba Indians, who had heard about the healing powers of the White Sulphur Spring and the Calibeate Spring. In 1832, Branch M. Jordan started a successful resort business there. Hotel operations were brought to an abrupt halt thanks to the Civil War. The spirits of soldiers have been seen and photographed around the property. Historic Jordan Springs has even been featured on an episode of SciFi's Ghost Hunters!
4. Henricus Historical Park, Chester
The city of Henricus was established in September 1611 and was Virginia's second settlement. The town prospered and grew until the famous Indian Massacre of 1622, during which some 400 colonists were slaughtered. Henricus was also the site of a bloody, naval Civil War skirmish which lasted from January 23 to 25, 1865. Restless spirits from both events continue to roam the area. Even when no reenactments are being staged at the park, visitors encounter people dressed in colonial garb and hear canon fires in the distance.
3. The Exchange Hotel Civil War Medical Museum, Gordonsville
The Exchange Hotel Civil War Medical Museum is currently run by Historic Gordonsville, Inc. It acquired the property back in 1971 and has been renovating it ever since. The hotel was built in 1859 and spent its early years as a popular place to stay for weary train passengers. Then, in 1862, it was converted into a Civil War receiving hospital.
Over 23,000 sick and wounded soldiers were shuttled in and out of the building. Around 700 could not be saved and were buried there. This explains why there have been nearly 80 recorded unexplainable incidents reported at The Exchange Hotel Civil War Medical Museum. One of the museum's ghosts is believed to be of a little boy who worked there during the Civil War. The hospital's depressing environment is said to have driven him to commit suicide.
2. St. Albans Sanatorium, Radford
This insane asylum's spooky history began before it was even built. The land on which it stands was where a bloody massacre occurred. In 1755, the colonists of Draper's Meadow were attacked by a group of Shawnee Indians. Those who weren't killed were taken as hostages. St. Albans Sanatorium was built in 1892, but first functioned as a boys' school, where bullying and homicide were not uncommon. The building became a psychiatric hospital in 1916. From insulin-induced comas to lobotomies, the treatment methods at the sanatorium were often more deadly than conducive. Today, plenty of creepy instruments and old gurneys lie rusting in the hospital.
1. Peyton Randolph House, Williamsburg
The Peyton Randolph House is a two-story, Georgian-style mansion built in 1715 by Sir William Robertson. It passed into the hands of Peyton Randolph, a famous revolutionary leader, in 1754. Behind the house's impeccable design lurks plenty of misery and pain. Peyton's wife, Betty, was known to be a very cruel slave master.
One of her slaves, Eve, is said to have placed a terrible curse on the house. Perhaps this is why decades later, many people died at the mansion – from freak accidents, murder, even mysterious illnesses. The house is thus one of the hottest attractions along Colonial Ghosts' guided tour of Williamsburg. Besides seeing and hearing ghosts, people have been attacked by them as well. A security guard, for instance, was trapped in the house's basement by some angry force.
Thank you for reading our list of the most haunted places in Virginia! Of course, there are many more haunted places in Virginia, but the 25 listed here are among the most haunted.