Posted on August 15, 2017
19. STAUNTON TRAIN DEPOT – STAUNTON, VIRGINIA
Train station tops as one of Staunton's most haunted locations.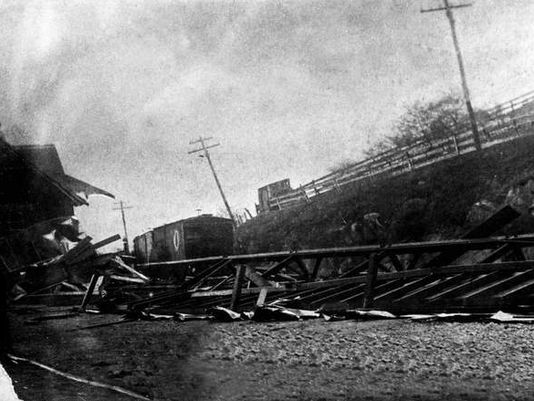 Image Source: NewsLeader.com
Staunton Train Depot rates as one of the most haunted places in Staunton, Virginia. Why? Well, throughout its long, 150 year history, the station's been ravaged by war, engulfed in flames, and even hit by derailed trains. Victims of battle, fires, and crashes continue to haunt the station to this very day.
The little town of Staunton lies in Shenandoah Valley, a prosperous region of western Virginia that is bordered by the Blue Ridge Mountains, the Ridge-and-Valley Appalachians, and the Potomac and James Rivers. For nearly 11,000 years, Native Americans were the valley's sole inhabitants. But the promise of productive farmlands drew Europeans to the area in the early 1700s. By 1763, they had driven most of the Indians out.
The land on which Staunton currently falls was first occupied by a family of Irish immigrants, the Lewis family. Their arrival in 1732 was followed four years later by a wealthy planter named William Beverley. Beverley was an important political figure who'd inherited several significant tracts of land in Virginia. In 1747, a plan to develop a town on one of these plots was made by surveyor Thomas Lewis. The plat was first called Beverley's Mill Place, but was later renamed in honor of Lady Rebecca Staunton. She was the wife of the lieutenant-governor of Virginia at that time.
Image Source: Loc.gov
Due to its great climate and prime location at the center of the colony, Staunton promptly attracted businessmen and politicians. In 1781, for example, it served briefly as the capital of Virginia. Its courthouse, built in 1745 by the famous architect T.J. Collins, became an important meeting place for the likes of Patrick Henry and Daniel Boone.
By the early 1800s, the town had over two hundred other buildings. These included taverns, hotels, even a fully operating lunatic asylum. There were also several large plantations, which lodged both wealthy colonists and slaves. Slavery was a key driver behind Staunton's booming economy. "From the 1820s through 1860, slaves represented twenty percent of the population."1
The construction of the Staunton-Parkersburg Turnpike in the 1840s further stimulated rapid economic and population growth. Planners also focused on establishing the town's educational system and religious community in the forties. The Augusta Female Seminary was founded in 1842, for example, and the Wesleyan Female Institute in 1846.
As the years progressed, other roads were installed, making travel to and from Staunton safer and more efficient. But what really lay behind Staunton's rise from a quiet suburb to a bustling commercial center was the arrival of the Virginia Central Railroad in 1854.
Image Source: Turn-of-the-Centuries
"Staunton's earliest railroad grew out of the Louisa Railroad Company, chartered in 1836."2 It took some fourteen years for the company to extend its elaborate system of tracks into Staunton. Initial operations were poorly managed, so arrival and departure times were very unreliable. But things had improved significantly by the advent of the Civil War. To support its improvements, a busy commercial borough sprung up around Staunton Train Depot. It was known as "The Wharf."
This was where trains loaded and unloaded their precious cargo via long gangplanks. Today, The Wharf is listed among Staunton's many historic districts. Another noteworthy one is the Newtown Historic District, where many fine examples of late 18th century buildings still stand well intact.
Image Source: Flower Garden Girl
Of course, other than things, trains also carried people. Thus, besides warehouses, The Wharf also had many elegant hotels, including the famous American, which was built in 1855 by the Central Virginia Railroad. Back then, "there was nothing like it between Richmond, Washington D.C. and Cincinnati."3 Famous guests of the hotel include Ulysses S. Grant and Union General David Hunter.
General Hunter is the man responsible for the fire which destroyed Staunton Train Depot in 1864. Staunton's reputation as a hub of transportation had gotten the attention of Union and Confederate troops alike. It "was immediately designated a mobilization point, an army depot, a commissary post, and a training and rmount center"4 by both armies. General Hunter, in hopes of cutting the enemy off from supplies and communications, decided to burn the train station. Those who perished in the flames contribute to the depot's current paranormal activeness.
Image Source: NewsLeader.com
Spirits from the Civil War era haunt other places in Staunton as well. First there's "Richard," the blue-uniformed soldier who roams Mary Baldwin College and loves to cause trouble. Then there's the "Yellow Peril," the gaunt and sickly spirit who dwells in the upstairs barracks of the Virginia Military Institute. Next up is the pistol-toting Confederate, who committed suicide at the Lafayette Inn. The Selma House is also known to be haunted by a Confederate soldier.
According to local lore, he was chased there by Federals and shot in front of the fireplace. "The young man's blood flowed onto the wooden floor and caused a rather disturbing bloodstain that became a permanent mark on the floor despite numerous efforts to remove it."5 Indeed, one of the most lasting effects of the four year war is the continued presence of its battles' victims.
Image Source: Dhr.virginia.gov 
After the South surrendered to the North in 1865, the town of Staunton began to slowly recover. A new train depot was erected, but it was again soon demolished, this time by a runaway train.
Image Source: Pinterest
On April 26, 1890, telegrapher-turned-opera singer Myrtle Ruth Knox boarded a Cincinnati express train in Missouri that would stop at Staunton. She had recently joined a company of opera performers and had high hopes for her new musical career. But both her dreams and journey were cut short when her train crashed into Staunton Train Depot.
"The four miles of track just west of the C&O Depot in Staunton, then as now, twist and turn as they drop some eighty feet before reaching the station. About two miles into the steep down-grade, the Cincinnati's brakeman applied air pressure to the brakes, but the train didn't slow down."6
The conductor soon lost control of the train completely. Its speed increased, its wheels tilted off the track, and its shaking cars promptly woke up sleepy passengers. Those who weren't thrown around their cabins could only hold on for dear life and pray that they'd survive the ordeal.
Image Source: Turn-of-the-Centuries
A few moments later, the train barreled into Staunton Train Depot, causing it to collapse completely. Pieces of the station punched through train windows and even toppled over an entire sleeper car. Unfortunately, the young, seventeen-year-old Knox was in that cabin. She was the only passenger who perished in the collision. She died quickly from the heavy bleeding caused by terrible wounds:
"One of her legs was nearly severed. A three foot splinter had forced its way into the entire length of the other leg, and still another splinter had pierced her femoral artery."7
A new station was built in 1902 to replace the one that was destroyed in 1890. It and the lines it serviced were used until they were abandoned in 1960. The Historic Staunton Foundation, a non-profit established in 1971, renovated the property in 1989 and began restoring The Wharf in 1991.
In 2004, the former station building became the now-closed Pullman Restaurant. For food, drinks, and a bit of history, tourists now frequent The Depot Grille8.
Image Source: Foursquare
As for ghosts, people go to Staunton Train Depot, because they know that it has many. According to Dawn Rogers of Black Raven Paranormal, "There are a number of spirits that move through this location. There are definitely the three victims that are here and I have picked up on probably four or five others."9
The apparition of Knox, dressed in a nightgown, has been seen wandering around the station's platform. Her spirit is also known for pulling at the hairs of female travelers. Another ghost that's often spotted around Staunton Train Depot is D.C. McLewry10, a Confederate who was struck and killed by a train at the station in 1861. It is said that he was too drunk to see where he was going. Today, he continues to stumble along the tracks.
Image Source: Turn-of-the-Centuries
Strange lights, spooky shadows, and ghostly voices have been seen and heard around the station as well. Black Raven Paranormal has these supernatural occurrences well documented. They've been studying Staunton Train Depot for several years. During their investigations, they use what they call "The Spirit Box"11 to gather EVPs. Since 2011, sessions at the station using the device have always captured ghostly voices.
If you want to talk to spirits with the Black Raven Paranormal team, sign up for their Spirit Box Depot Walking Tour12. If it's a more comprehensive, scary evening you're looking for, check out their Historic Walking Tour13 through Staunton. Guides will take you to the town's most haunted spots, including the aforementioned Mary Baldwin College. Other supernaturally hot locations include The Clock Tower Building and The DeJarnette Sanatorium.
Many people have fallen to their deaths from the tower, either by accident or through suicide. Their ghosts are known to frighten visitors. At the asylum, opened in 1932, children were experimented on by the evil Dr. Joseph DeJarnette. Today, the building stands in ruins, but it hasn't been abandoned by the patients who were tortured there.
Image Source: Opacity.us
Works Cited
"History." City of Staunton, Virginia, 2015. Web. 26 September 2015. Page 1.
From David J. Brown, ed., Staunton Virginia: a pictorial history, Staunton, Virginia: Historic Staunton Foundation, 1985. "A Brief History of Staunton, Virginia." Web. 26 September 2015. Para. 25.
"The American Hotel." The American Hotel & Banquet Room. The American Hotel & Banquet Room, 2011. Web. 26 September 2015. Para. 4.
From David J. Brown, ed., Staunton Virginia: a pictorial history, Staunton, Virginia: Historic Staunton Foundation, 1985. "A Brief History of Staunton, Virginia." Web. 26 September 2015. Para. 31.
Gaaserud, Michaela Riva. Moon Virginia & Maryland: Including Washington DC. Berkeley: Avalon Travel, 2014. Page 254.
"Train crash leveled Staunton's C&O station in 1890." NewsLeader.com. 14 May 2014. Web. 26 September 2015. Para. 9.
"Train crash leveled Staunton's C&O station in 1890." NewsLeader.com. 14 May 2014. Web. 26 September 2015. Para. 25-26.
"A Little History." The Depot Grill. The Depot Grill, 2013. Web. 26 September 2015.
Stewart, Khiree. "Real Ghosts in the Valley." WHSV.com. 25 October 2014. Web. 26 September 2015. Para. 2.
"Is Staunton haunted?" Newsleader.com. 30 October 2011. Web. 26 September 2015. Para. 14.
"What is a Spirit Box?" Ghosts of Staunton. Black Raven Paranormal. Mary Seibel & Ghosts of Staunton, 2015. Web. 26 September 2015.
"Spirit Box Depot Tour." Ghosts of Staunton. Presented by Black Raven Paranormal. Mary Seibel & Ghosts of Staunton, 2015. Web. 26 September 2015.
"Ghosts of Staunton: Historical Walking Ghosts Tour." Ghosts of Staunton. Presented by Black Raven Paranormal. Mary Seibel & Ghosts of Staunton, 2015. Web. 26 September 2015.