Posted on August 15, 2017
18. SWANNANOA PALACE – AFTON, VIRGINIA
Stunning mountaintop estate may be decaying, but its ghosts are thriving and doing well.
Image Source: NewsLeader.com
On June 8, 2013, a team of ghost hunters from Twisted Paranormal Society headed for Afton, Virginia. Their destination was a magnificent mountaintop structure, calledSwannanoa Palace. Rumors that the estate was haunted had been swirling for years. During their investigation1, TPS collected much evidence which justified these claims. They caught images of spectral orbs, shooting across rooms and stairwells; recorded ghostly voices, responding to investigators' questions. Several team members also felt uneasy and ill during the visit.
Image Source: Twisted Paranormal Society
If this isn't enough to convince you to visit Swannanoa Palace, know that TPS visited it again one year later, this time with the crew of the "paranormal reality show called The R.I.P. Files."2 Season 2's "Spirits of the Palace" uncovers the stellar building's haunted past and identifies the ghosts who lurk there.
James H. Dooley
Swannanoa Palace is located in Augusta County. It was built in 1912 by James H. Dooley, a Richmond based millionaire, philanthropist, and Civil War veteran. His father, John Dooley, was a prominent hat manufacturer from Limerick, Ireland.
Image Source: Maymont.org
As a young boy, James H. Dooley was an avid reader. Even in grade school, he excelled as a student. When it came time for college, he enrolled in the prestigious Georgetown University, from which he graduated with honors in 1861. He was especially drawn to the field of law, but before he could begin practicing professionally, the Civil War broke out. Dooley enlisted with one of his brothers in the Confederate Army and become a member of the First Virginia Infantry.
He was shot and wounded during the Battle of Williamsburg on May 5, 1862 and was briefly held as a prisoner of war at a prison called Rip Raps. A few months later, Dooley was released in exchange for a Union soldier. He went back to Georgetown University, this time to secure a Masters degree so that he could finally pursue a career in law. From 1871 to 1877, Dooley served on Virginia's legislature. He also became closely involved in the banking, steel and railroad industries.
In 1869, Dooley married Sarah "Sallie" O. May of Staunton, Virginia. She too was an intellectual from a wealthy background. The two began their lives as a married couple in Richmond and quickly became famous for their philanthropy. Sallie donated her jewels to Episcopal causes, for instance, while her husband gave three million dollars to the St. Joseph's Orphanage.
Image Source: Maymont.org
Two Extraordinary Estates
Besides civic endeavors, the Dooleys invested most of their wealth in building two extraordinary estates. The first, known as Maymont, is located in Richmond's beautiful Byrd Park and served as the couple's main abode. The property was completed in 1893 and includes a lavish mansion, several outbuildings, an exquisite Japanese ornamental garden, even a waterfall. Upon their death, the estate was given to the City of Richmond. Today, it is open to the public and run by the Maymont Foundation. Its biggest attractions include a children's farm, a petting zoo, and several native wildlife exhibits.
Image Source: Expedia.com
Summer Retreat
But even the one hundred some acres of Maymont were not enough for the Dooley couple. They decided that they also needed a summer retreat, away from Richmond, as well. They thus chose the top of the Blue Ridge Mountains for Swannanoa Palace. This would give them stellar views of the Shenandoah and Rockfish Valleys.
The Dooleys' vision took nearly eight years to build and required the skills of over three hundred artisans. These craftsmen based their design on Rome's Villa Medici. The Villa Medici, a mannerist villa that stands in Italy's famous Borghese gardens, has influenced the design of other structures for centuries. The Dooleys' Swannanoa Palace would mirror its use of Georgian marble, which Dooley personally selected and imported directly from Italy.
Image Source: Dhr.virginia.gov
Swannanoa
"The Dooleys called the palace Swannanoa because Sallie dearly loved the graceful white birds and the fact that they mated for life."3 This explains why there is an exquisite carving of a swan over the mansion's main entrance. Other doorways are graced with bronze angels, reflecting the couples' devout Christianity.
Swannanoa Palace's interior furnishings exemplify America's Gilded Age at its best. From elaborate door handles to an impressive system of pipes, plenty of fixtures and appliances were made from gold. The property also had its own power plant, making the palace the first home in the county to have its own running electricity.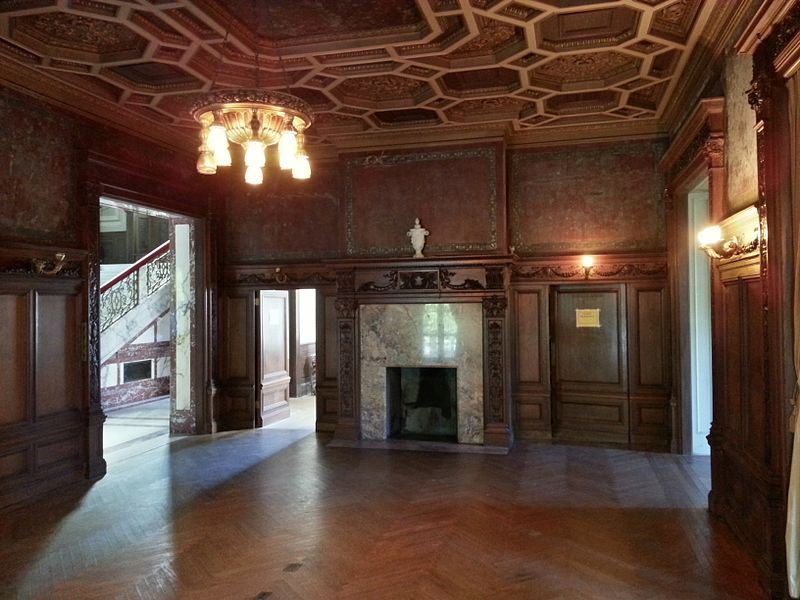 Image Source: Wikipedia
The palace's most unique feature is a token of love from Dooley to his wife. He asked for her likeness to adorn its elaborate domed ceiling.  Other noteworthy elements include a stunning 4,000 piece, Tiffany stained-glass window and a massive Italian Cararra fireplace.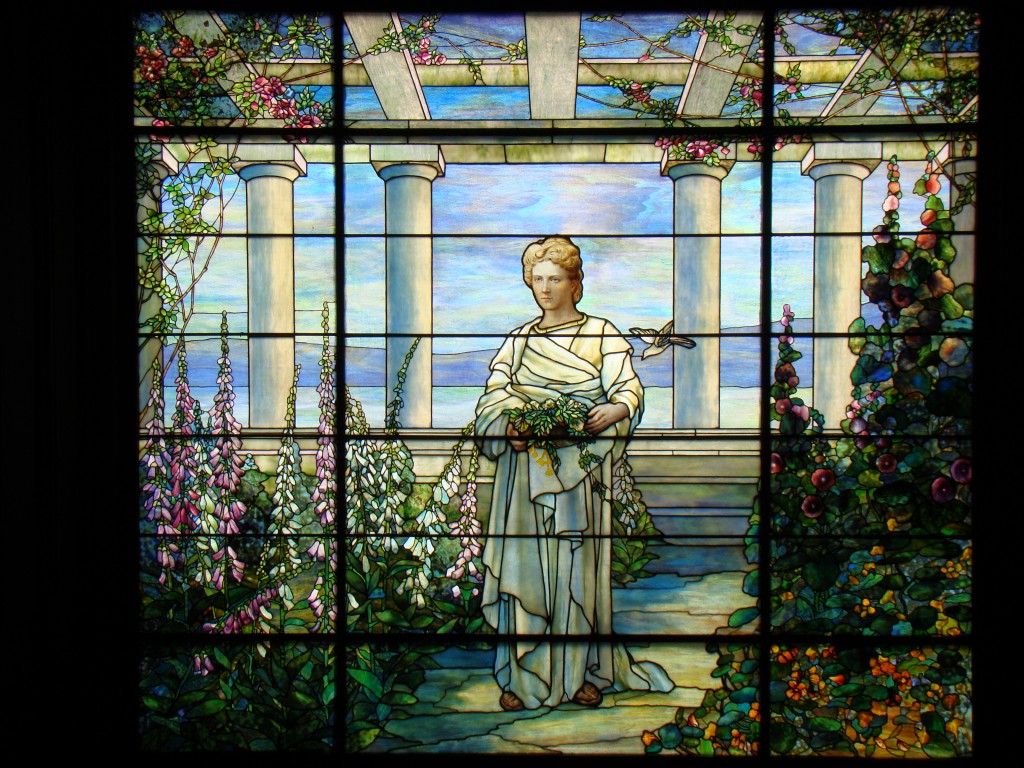 Image Source: From Dogwoods to Magnolias 
Deaths
Unfortunately, both Dooley and his wife didn't have very long to enjoy their new mountain retreat. A stroke killed Dooley in 1924, and Sallie died just two years later. They were interred in Maymont's mausoleum. Swannanoa Palace was bequeathed to Dooley's two sisters, who promptly sold it to the Valley Corporation of Richmond.
The company transformed it into a Country Club that operated from 1929 to 1932. The club's distillery became famous for producing the region's best moonshine during the Prohibition era. It was rumored to be a favorite supplier for government officials. Perhaps this is why President Calvin Coolidge, one of the club's most noteworthy guests, visited it for a Thanksgiving dinner in 1928.
Image Source: Wikipedia
Swannanoa : A University
When the country club closed, Swannanoa Palace stood unoccupied for seventeen years. Then, in 1949, it was leased to a famous American painter and sculptor by the name of Walter Bowman Russell. Russell was also an important Enlightenment thinker who wrote and lectured about the New Thought Movement.
He and his wife, Lao, converted Swannanoa Palace into The University of Science and Philosophy, where students learned about the "genius inherent in everyone"4. Russell's idea of cosmic illumination was quite controversial for the time. It challenged the nation's educational system by arguing that all knowledge should be self-discovered rather than taught. His theories were very similar to those of the mysterious Illuminati society. This secret, anti-elitism group has been around since 1776. The cult's main goal is to establish a new world order that is free from all government control. However, many members were also mystics who believed in the supernatural, cosmogony, even UFOs.
Image Source: Wikipedia
Illuminati
Russell is rumored to be tied to the Illuminati bloodline families. He too opposed many government policies, particularly those related to nuclear testing. He and his wife published Atomic Suicide in 1957, arguing against the exploitation of radioactivity.
After Russell died on May 19, 1963, Lao became the university's sole manager. "As her followers grew, so too did the mystery and mysticism of the place."5 This certainly explains why odd, cosmic observances are often staged at Swannanoa Palace. A group called Star Bourne held its "11:11 Doorway Opening ritual"6 there in 2012, for instance. Their goal was "to open a Doorway or Bridge between our world of duality and the Greater Reality."7
Image Source: Archeage.Guildex.Org
Russell's connection to the Illuminati is supported by William Bennett Edwards and his wife, who live next door to Swannanoa Palace. They are convinced that the estate "serves as the secret meeting place of the agents of the Council of 30 – supposedly an all-powerful cadre that has manipulated world economies, incited wars and ordered assassinations"8. They also "believe that Lao Russell was being controlled and manipulated by outside forces and was even kidnapped in 1972."9
Financial difficulties forced Lao to sell Swannanoa Palace, but the money still wasn't enough to prevent the school from closing. It was leased to Skyline Swannanoa, Inc. in 1999. The company began to renovate the property, hoping to rescue it from its state of extreme disrepair. Due to vandalism and bad weather, much of it lay in shambles.
Image Source: Steeles Tavern Manor
James Dulaney
Swannanoa Palace's present owner is James Dulaney. When he acquired the property in 2000, Dulaney put more than three million dollars into restoring it. He opened the palace's first floor to the public in the spring of 2010 and plans to transform it into a luxury inn in the future. His money and efforts have been well rewarded.
Though it continues to decay, the estate draws in tons of visitors every year. Wedding receptions, photo shoots, and paranormal investigations are also held there. That's because where cults go, ghost hunters are sure and soon to follow. Why is Swannanoa such a great place to open portals to other worlds, they wonder. Is the afterlife included in these unearthly realms? Given how many ghosts have been spotted at Swannanoa Palace, this definitely seems to be the case.
Sallie Dooley is the estate's most famous spectral tenant. Her spirit is often seen wandering the mansion's long corridors. Dulaney himself believes in her continued presence. "I have cats and they're locked up and they won't go on the third floor,"10 he states. Mrs. Dooley is said to have disliked cats.
Other Spirits
Other spirits who lurk in Swannanoa Palace include servants and groundskeepers who worked there. Their voices contribute to all the "eerie audio evidence"11 Twisted Paranormal Society captured during their investigation. Such results prove that the estate is definitely caught in some type of limbo. The library is believed to be the palace's most active room, but you have fifty-one others to explore. So if you're looking to be spooked and don't mind high altitudes, visit Swannanoa Palace today!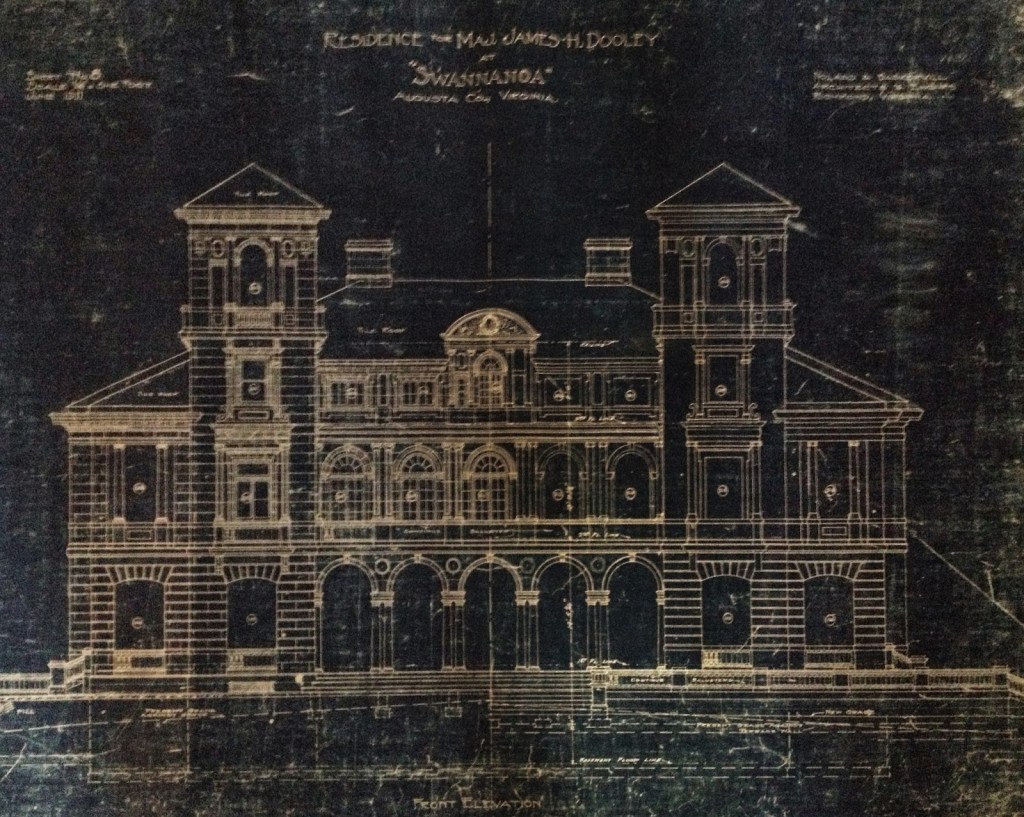 Image Source: Tjsah.blogspot.com
Works Cited
"Swannanoa Mansion." Twisted Paranormal Society. 8 June 2013. Web. 4 October 2015.
Moorer, Brit. "Charlottesville Ghost Hunter Investigates Swannanoa Palace." Newsplex.com.26 January 2015. Web. 4 October 2015. Para. 5.
Sorrells, Nancy. "Swannanoa: Mysterious mountaintop marble mansion." NewsLeader.com.27 September 2014. Web. 4 October 2015. Para. 9.
"Purpose." About. The University of Science and Philosophy, n.d. 5 October 2015. Para. 4.
Sorrells, Nancy. "Swannanoa: Mysterious mountaintop marble mansion." NewsLeader.com.27 September 2014. Web. 4 October 2015. Para. 18.
"Swannanoa Mansion Part I – Meeting Place of the Illuminati?" Before It's News Inc. 2 March 2012. Web. 4 October 2015. Para 2.
Kemp, Daren and James Lewis. Handbook of New Age. Leiden: Koninklijke Brill NV, 2007. Page 92.
Oldenburg, Don. "Conspiracies Lurking Everywhere: Culture: The tendency to suspect unseen schemes at work isn't solely a proclivity of crackpots and paranoids. Experts say we're all susceptible." The Washington Post. 9 February 1992. Web. 4 October 2015. Para. 5.
"Swannanoa Mansion Part 2 – Meeting Place of the Illuminati?" Before It's News Inc. 2 March 2012. Web. 4 October 2015. Para. 6.
"Fishersville-Based Paranormal Society Sets up Shop at Swannanoa." NBC29.com. 8 June 2013. Web. 4 October 2015. Para. 9.
"Paranormal Group Releases Evidence from Swannanoa Investigation." NBC29.com. 14 July 2013. Updated 28 July 2013. Web. 4 October 2015. Para. 14.