Posted on August 15, 2017
The Ghosts of Norfolk, Virginia
Naval city is just as paranormally active as Colonial Williamsburg!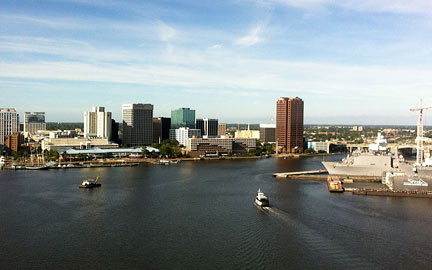 Image Source: Nations Online
About an hour's drive south from Colonial Williamsburg is Norfolk, Virginia. If you wish to explore another haunted part of the state after one of our hair-raising tours, this city certainly won't disappoint. There are many places in Norfolk that are abuzz with the paranormal.
One of these creepy locations is the Norfolk City Jail. It is believed to be haunted by a prisoner who committed suicide there a very long time ago.
Even during the mid-1900s, Norfolk's prison system was extremely backward. The city had a lot of criminals, but very little jail space. Inmates often had to double up on beds, for instance. In 1943, J. Blan van Urk wrote an article for The American Mercury in which he reported: "Five and six women [in the jail] were cooped up in every cell and there were no beds at all for many of them. The city has a prison farm, but conditions are just as crowded there."1 It should come to no surprise, then, that suicides occurred very often in the prison.
One man is said to have hung himself in one of the cells, and his spirit continues to haunt the small space. Prisoners who have stayed there after him report of seeing his distorted face in the mirror. Night guards sometimes see his silhouette, wandering around the facilities.
Besides crime, Norfolk had many other pressing issues during the twentieth century. After World War II, the city faced a severe housing shortage and the living conditions in many neighborhoods were unacceptable. As a result, many residents – especially wealthy, middle-class citizens – began to leave. In an effort to draw people back, the government pursued slum clearance programs, constructed new high rises and revamped Norfolk's transportation system. In 1967, the 12.1 mile long Virginia Beach-Norfolk Expressway was opened, for example. In 1988, the Downtown Tunnel was expanded and the Berkley Bridge was rebuilt. Such transformations made travel to and from the city convenient and easy. By 1998, Norfolk's population had grown to an impressive 300,000 people.
Growth in tourism quickly followed. Many fun attractions and cultural centers were introduced to entertain visitors. Norfolk's massive, dome-shaped Scope sports complex was opened in 1971, for example. Its design was inspired by the Palazzo and the Palazetto dello Sport, two arenas located in Rome. "Scope – short for 'kalediscope'"2has hosted numerous professional sporting events, including wrestling, hockey, soccer, basketball and boxing.
Another great place to catch a game is the Harbor Park baseball stadium. It was opened in 1993 and seats 12,000 people. The facility has unique light towers that look like shipyard cranes. In 1995, "Harbor Park was selected by Baseball America as the finest minor league facility in the land."3
If you like to shop, the Waterside is a wonderful place to spend the afternoon. This festival marketplace was revealed on June 1, 1983 and is located right next to the Portsmouth Ferry terminal. The Waterside is filled with food courts, restaurants and specialty retail shops.
For those interested in design, Norfolk's historic Ghent District is a must-visit. The district became listed on the National Register in 1980 and is known especially for its breath-taking architecture. Many of its most beautiful buildings are churches, such as the Gothic-style First Presbyterian Church on Colonial Avenue, and the colonial-style St. Paul's Episcopal Church on St. Paul's Boulevard.
Image Source: Saint Paul's
St. Paul's Episcopal Church was Norfolk's first house of worship. During the great American Revolutionary War, it was cannonaded and burned by British forces. Ten years later, "the church was restored and returned to active use"4.  Today, it is rumored to be haunted by the ghost of Doctor Nicholas Albertson Okeson. Okeson served as the church's minister from 1856 to 1882 and was one of its most devoted servants. He was originally from Perry County, Pennsylvania, but moved to Norfolk after the Yellow Fever Epidemic of 1855. The disease crippled many Tidewater communities, but Norfolk was hit especially hard. The city's coastal climate provided the perfect environment for the spread of yellow fever. In fact, about "ten percent"5 of the city's population died from the illness.
Though he managed to escape yellow fever, Doctor Okeson wasn't as lucky with malaria. He contracted and died from the disease on September 16, 1882. Sadly, he passed away in the same room in which he was born. St. Paul's Episcopal Church has done much to keep Okeson's memory alive. It named a beautiful stained glass window after him, for instance. This window lies to the left of the altar and depicts "Saint Paul preaching on Mars Hill."6 Dr. Okeson's old desk is also on display in the Parish House's reception room.
Perhaps that is why Okeson's spirit is so unwilling to leave. His ghost is spotted most often in the churchyard, where he was buried.
Another haunted, religious building in Norfolk is the Freemason Abbey. The abbey was built in 1873 and has been used by Presbyterian Christians, Christian Scientists and members of the Independent Order of Odd Fellows. Today, the abbey operates as a restaurant and tavern. A group of "skilled craftsmen"7 began transformations in 1988. Since the change, the Freemason Abbey has been serving up good food and ghostly encounters. There have been "numerous accounts of items moving about, cupboards opening on their own and doors that won't stay closed".8 Managers and customers alike have seen dark, unexplainable shadows and heard the disembodied sounds of a woman crying.
Norfolk also has two very paranormally active ships: the USS George Washington and theBattleship Wisconsin. The former was built in Newport News and was christened on July 21, 1990 by First Lady Barbara Bush. It left for its maiden voyage on May 20, 1994. As of 2015, its homeport is the Naval Station Norfolk.
According to sailors, there is a little girl who haunts the USS George Washington's lower levels. She is often seen in a little pink and white dress. Others have encountered the spirit of a guard dog, which vanishes when approached. People have also been tapped on the shoulder and heard the jingling of keys, when no one is around.
No trip to Norfolk is complete without a visit to Nauticus, the maritime-themed science center located on the city's downtown waterfront. Nauticus offers several fun exhibits and programs, including a shark petting lagoon, a guns and gear gallery, and a hurricane simulator. But if you're looking for scares, hop aboard the great Battleship Wisconsin, which is docked right outside the center. The Battleship Wisconsin "is one of the largest and last battleships every built by the U.S. Navy."9 Due to its high levels of paranormal activity, this massive vessel has been investigated by several ghost hunting teams. During their memorable visit, the Old Dominion University Ghost Hunters identified numerous paranormal "hot spots."10 The ship is rumored to be haunted by a crew member who died on it in 1951, during the Korean War. According to local lore, he was fixing the air conditioning system, when somebody turned it on. The poor man was killed instantaneously.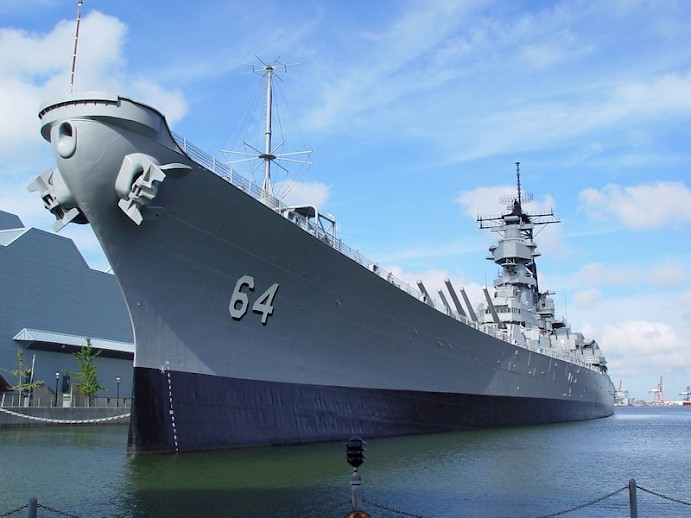 Image Source: Nauticus
People claim to have been followed by sinister, white mists while visiting the battleship. Perhaps these are manifestations of the slain crewman. Others report of feeling like they are being watched. So after you are done exploring Colonial Williamsburg with us, venture south to Norfolk and continue your ghost hunting expedition!
Works Cited
Urk, J. Blan Van. "Norfolk – Our Worst War Town." The American Mercury, February 1943. Web. 4 April 2016. Page 144.
Walzer, Phil. "Architect left his mark on many iconic Norfolk structures." The Virginian-Pilot.25 July 2011. Web. 4 April 2016. Para. 27.
"Harbor Park." Norfolk Tides. MILB.com. Updated Sept. 2, 2015. Web. 4 April 2015. Para. 7.
"Church History." Saint Paul's Episcopal Church, 2016. Web. 4 April 2016. Para. 1.
"Tidewater's Crippling Yellow Fever." The History Engine, 2008-2015. Web. 4 April 2016. Para. 3.
"History: Saint Paul's Heritage." Saint Paul's Episcopal Church, 2016. Web. 4 April 2016.
"The Abbey." Freemason Abbey Restaurant, 2012. Web. 4 April 2016. Para. 1.
Korman, Alexis. "Haunted Wine Tasting Rooms and Cellars Around the Country."Winemag.com. 25 Oct. 2012. Web. 4 April 2016. Para. 16.
"Battleship Wisconsin." Nauticus, 2016. Web. 4 April 2016. Para. 1.
"Paranormal Investigation Leads to New Haunted Experience Aboard Battleship Wisconsin." Nauticus, 2016. Web. 4 April 2016. Para. 2.