Posted on August 15, 2017
Image Source: Only in Your State
Williamsburg certainly is not the only haunted city in Virginia. On the other side of the York River lies Gloucester, an area which has its own set of creepy places as well.
Gloucester County was founded in 1651 and is named after the third son of King Charles I, Henry Stuart. Henry earned the British royal title "Duke of Gloucester" at a very young age. Unfortunately, he died from smallpox one year after receiving dukedom.
Gloucester County's close proximity to two significant bodies of water (the York River to its south, and the Chesapeake Bay to its east) made it a hub of trade during the colonial era. Slaves and commodity crops – especially tobacco – were exchanged on a daily basis on its watery thoroughfares. When not busy with mercantile activities, colonists were keeping a wary eye out for belligerent Native American tribes. Prior to European occupation, the area was occupied by Algonquian-speaking peoples, many of whom were eventually swallowed up by the powerful Powhatan Confederacy. Thus, several archaeological excavations around Gloucester have unearthed Indian artifacts (such as arrow heads and ceramics) which date back to the early 16th century. "Sufficient evidence"1 also supports that the famous Native American village of Werowocomoco was located there.
Now many of the haunted places we have already posted about have pasts riddled with violent meetings between Indians and colonial settlers. But another common theme is the abuse of slaves. Slave labor was "an essential part"2 of Gloucester's economy during the colonial times. In fact, the family which owned its grandest plantation, the Rosewell Plantation, had been involved in slavery since the 1670s. The Page clan's ancestor, Colonel John Page, was an agent at the Royal African Company, a "key player in the transport of Africans to the West Indies and Virginia."3 In the 1680s, the Company was sending approximately five thousand slaves a year to the states.
We'd included the Rosewell Plantation on our list of top ten haunted spots in eastern Virginia4, but given its remarkable past (and current state of ruin), we figured the spooky, historic site deserves some more attention.
At the center of the three thousand acre plantation once stood a beautiful, three-story mansion. It was built between the years of 1725 and 1738. In the words of architectural historian Daniel Drake Reiff: "Rosewell was the largest and most advanced brick building in Virginia at the time; it was unique in being of London townhouse design."5Notable elements included carved stone keystones, intricate door cases, and two octagonal cupolas. The red bricks of the house were laid in Flemish bond.
Rosewell Plantation was the home of the aforementioned Page family for over a hundred years. The Page family was one of the earliest families of Virginia. Mann Page I (1691-1730) was the one who conceptualized Rosewell Plantation. Page's goal was "to build a home that would not only rival the newly completed Governor's Palace near Williamsburg, but would surpass it in size and style."6 Unfortunately for Page, he died before the plantation was completed. His wife, Judith Carter, took over the estate. With the help of her son, Mann Page II, she completed the mansion in 1737.
Mann Page II and his second wife, Anne Corbin Tayloe, lived in the mansion for awhile, but left in 1765 to establish their own plantation in Spotsylvania County. Their son, John Page, immediately took over and moved in with his first wife, Francis Burwell Page.
John Page is probably the most famous of the Page clan. He has ties to several important historical figures, including Thomas Jefferson. The two were classmates at the College of William and Mary and remained very close friends after graduating. When Jefferson ran for president in 1800, Page was more than happy to help out with his campaign, for instance. Jefferson was thus a frequent guest at Rosewell Plantation. According to legend, Jefferson wrote an early draft of the Declaration of Independence in one of the mansion's bedrooms.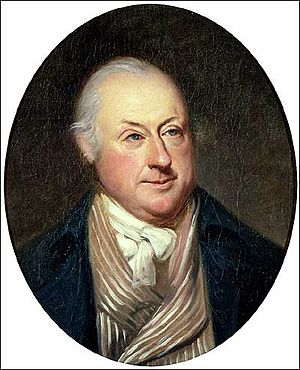 Image Source: Wow.com
After leaving school, John Page focused on serving his country. When the American Revolutionary War broke out in 1775, he left his beloved Rosewell Plantation to join the Virginia state militia. He started out as an officer, but was eventually promoted to colonel. Then, after the war ended in 1783, John Page shifted his attention to politics. He held several important political roles. These include the Lieutenant Governor of Virginia, the Governor of Virginia, and United States commissioner of loans for Virginia.
Before he left for the Revolutionary War, though, John Page worked with his first wife Francis to renovate and redecorate Rosewell Plantation. In 1771, they reached out to the John Norton & Sons, Merchants of London and Virginia for materials. Thanks to the couple's efforts, Rosewell Plantation became even more luxurious than ever before. With new "carved marble mantels"7 and "wainscoted mahogany wall panels," the mansion became the epitome of class.
John Page's second wife, the famous American poet Margaret Lowther, would host lavish literary sessions at Rosewell Plantation. But she also had many children to raise – five of her own, and seven of Francis'. The slaves owned by the family thus had chores both inside the mansion and out.  "From the Colonial Period to the Civil War, slaves of African descent toiled in Rosewell's fields, worked as house servants and plied skilled trades such as blacksmithing."8 According to his own records, John owned some thirty-five slaves9 – ten field hands, twelve domestic laborers, four elderlies and nine children. His father, Mann Page II, had even more – county tax assessments "concluded"10 that he had a grand total of seventy-six!
Perhaps one of these slaves placed a curse on Rosewell Plantation. In 1916, the mansion was gutted by a terrible fire. Today, only four chimneys, one wall, and its cellar remain. The family who owned it at the time of the horrible inferno was the Taylors. They did not try to restore the building. Left to the elements, the once-grand home quickly became unlivable. It was donated in 1979 it to the Gloucester Historical Society. Since then, the foundation has worked hard to stabilize, preserve and study the ruin.
Today, Rosewell Plantation is open to visitors. Many of them have experienced strange things there. This includes feeling sudden drops in temperature and hearing disembodied voices. Female ghosts are also frequently seen, roaming the estate's grounds. The basement, of course, is especially active. We've picked up electronic voice phenomena there. If you have an EVP detector, we highly recommend you bring it with you when you visit the ruins!
Works Cited
Cosgrove-Mather, Bootie. "Powhatan's Tribal Village Found." CBSNews.com. 7 May 2003. Web. 19 March 2016. Para. 5.
"Plantation Life and Slavery." The Rosewell Foundation, n.d. Web. 19 March 2016. Para. 1.
"Rosewell Ruins." PCwinery.com. PDF upload, n.d. Web. 19 March 2016. Page 2.
"Top Ten Haunted Spots in Eastern Virginia." Colonial Ghosts. 30 December 2014. Web. 19 March 2016.
Reiff, Daniel D. Houses from Books: Treatises, Pattern Books and Catalogs in American Architecture, 1738 – 1950: A History and Guide. University Park, Penn State Press: 2010. Page 348.
Matrana, Marc. R. Lost Plantations of the South. Jackson, University Press of Mississippi: 2009. Page 5.
"Rosewell's Timeline." The Rosewell Foundation, n.d. Web. 19 March 2016. Para. 8.
"Plantation Life and Slavery." The Rosewell Foundation, n.d. Web. 19 March 2016. Para. 1.
"Rosewell Ruins." PCwinery.com. PDF upload, n.d. Web. 19 March 2016. Page 2.
"Rosewell Ruins." PCwinery.com. PDF upload, n.d. Web. 19 March 2016. Page 1.