Posted on August 15, 2017
The Great Dismal Swamp
Virginia's most haunted natural feature.
The Great Dismal Swamp is one of the largest wilderness areas on the Eastern Seaboard. It covers parts of southeastern Virginia and northeastern North Carolina. Back in the days of George Washington, the swamp encompassed millions of acres of marshy land. But centuries of human habitation have disrupted its natural ecosystem. Numerous ditches and canals have been carved into the land. The earliest, finished in the late 1760s, was a five mile long ditch and is known today as "Washington Ditch"1. The longest, called the Dismal Swamp Canal, took over two decades to complete. Constructing such artificial waterways requires draining existing lakes and rivers and logging trees from their surrounding woodlands. As a result, "today, 112,000 acres of swamp remain."2 The Great Dismal Swamp National Wildlife Refuge oversees the preservation and protection of these precious remnants.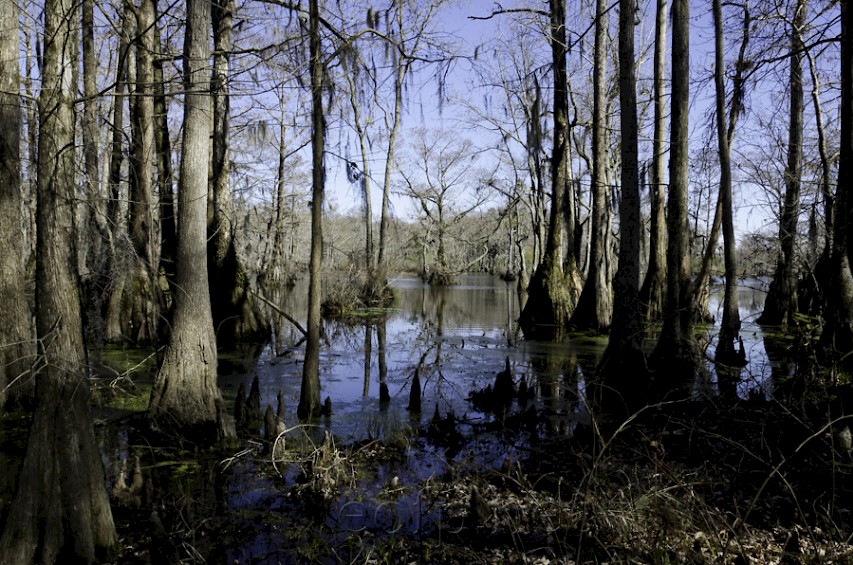 Image Source: Encyclopedia of Forlorn Places
We mentioned the Great Dismal Swamp briefly in our post on the Ambler family of Jamestown because it has played an important role in the shaping of American history. But the swamp is also rumored to be haunted. According to Native American legend, the ghost of "a deranged lover searching for his dead sweetheart"3 wanders its grounds. His vanished girlfriend is often referred to as the Lady of the Lake.
American Indians lived in the swamp long before the arrival of the colonists. Villages of various tribes, including the Chesapeake and the Chowan, once dotted the swamp's perimeter. The Indians would venture deeper into the marsh when they needed to hunt or fish. Their adventures in the Great Dismal Swamp inspired a "multitude"4 of myths and fables, including the sad story of the Lady of the Lake. Another one tells of a witch, who supposedly transformed herself into a cypress tree in order to escape from a pack of vicious hunting dogs.
Two famous poems were inspired by the Lady of the Lake: Edgar Allan Poe's "The Lake" and Irish poet Thomas Moore's "A Ballad: The Lake of the Dismal Swamp". "The Lake" was published in Poe's Tamerlane and Other Poems and is filled with dark symbolism and imagery – it is a beautiful example of Dark Romanticism prose. Moore wrote his piece after overhearing someone recount the tragic tale in a Norfolk tavern.
Some people claim to still see the Lady of the Lake, "paddling her ghostly white canoe across the waters of Lake Drummond."5 Her supernatural vessel is believed to be lit by a fire-fly lamp. When night falls, its eerie light has been spotted from the lake's shores.
Other writers have been drawn to and inspired by the Great Dismal Swamp's gloominess. In 1894, a heartbroken Robert Frost visited Lake Drummond, which is located at the center of the swamp. The acclaimed American writer had just been scorned by his then sweetheart, Elinor White, and so was feeling particularly depressed. He would later tell a biographer that he'd hoped to lose himself somewhere in the swamp's wild landscape and never return.
Harriet Beecher Stowe used the Great Dismal Swamp as the setting of her book Dred: A Tale of the Dismal Swamp. The novel is another powerful expression of Stowe's strong abolitionist sentiment, which she first made clear in her monumental work, Uncle Tom's Cabin. Uncle Tom's Cabin was published in 1852, and Dred: A Tale of the Dismal Swampwas published in 1856. Though Uncle Tom's Cabin became a best seller, it resulted in a firestorm of controversy. Several authors, such as William Gilliam Simms, penned pro-slavery novels in response. Simms' The Sword and the Distaff showed white plantation owners as benevolent slave owners, a stark contrast from how Stowe depicted them.
Dred: A Tale of the Dismal Swamp contains many subplots and characters. First, there is Nina Gordon, a young plantation heiress who is struggling to rescue her declining estate. Then there is her love interest, Edward Clayton, a lawyer who secretly hopes to abolish slavery, despite his father's pro-slavery stance. The main character, Henry Gordon, is actually Nina's half brother. Their father, Colonel Gordon, is a cruel-hearted man who slept with one of his slaves. The title character, Dred, is an escaped slave who plots a violent revolution against slave owners. He is a member of the Great Dismal Swamp maroons, a group of runaway slaves who lived in the swamp during the 18thcentury in order to escape persecution. The maroons shared their hiding place with other outcasts, including white criminals, freed blacks and Native Americans. According to Daniel Sayers' A Desolate Place for a Defiant People, some "ten generations of escaped slaves lived"6 there. Material remnants of their presence include nails, gun flints, and traces of cabins. Today, the Great Dismal Swamp, along with its canal, is recognized as a part of the Underground Railroad.
In 1842, Henry Wadsworth Longfellow wrote a poem that imagines what life was like to be one of these poor maroons. His powerful words capture the hardships of living in the tangled, boggy wetland, "where hardly a human foot could pass, or a human heart would dare."7 His "The Slave in Dismal Swamp" is said to have inspired the New York artist David Edward Cronin to paint Fugitive Slaves in the Dismal Swamp, Virginia. The painting shows a group of fugitive slaves, looking very sad and desperate.
White settlers found the Great Dismal Swamp's atmosphere just as depressing. When William Byrd II surveyed the area in 1728, he described it as "a miserable morass where nothing can inhabit,"8 for instance. The only one who seemed to see the feature's potential at the time was George Washington. In 1763, he founded the Dismal Swamp Company to transform the swamp and make its land farmable. The route for the Dismal Swamp Canal was surveyed in 1784 and by 1796, five miles were completed from each end.
But digging a twenty-two mile long ditch required a lot of work. The Dismal Swamp Company relied heavily on slaves to drain the land and cut down trees. They were also tried to plant rice and corn on arable areas. When the Dismal Swamp Canal was finally completed in 1814, it connected the Elizabeth River and the Pasquotank River. The first vessel to travel through it was a twenty ton ship loaded with bacon and brandy. In subsequent years, several improvements were made to the canal. In 1826, for example, it was enlarged such that shoal draft sailboats could fit through it. Three years later, it was deepened to accommodate even larger ships. Finally, it was a full intracoastal waterway. But competition from railroads and other canals – such as the toll-free, Albemarle and Chesapeake Canal – severely reduced the canal's traffic in the late 1890s. Today, it is known more as a historic landmark, versus a pivotal means of transportation.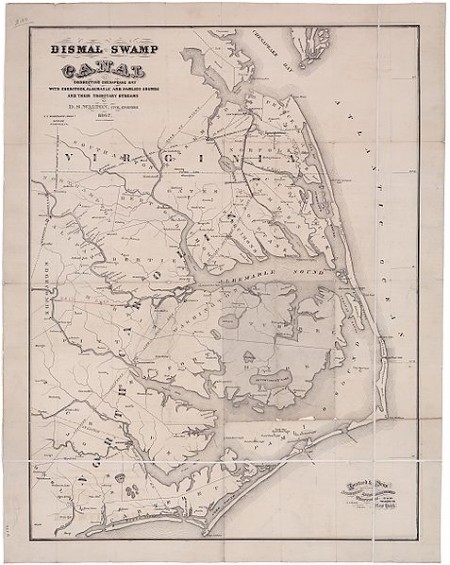 Image Source: Dismal Swamp Canal Welcome Center
In 1974, the Great Dismal Swamp National Wildlife Refuge was established. Its purpose is to protect the swamp's ecosystem, which includes a wide range of animal and plant life. Its forests include trees of pine, Atlantic white cedar and sweet-gum oak. Its flora include rare specimens of silky camellia, log fern and Virginia least trillium. Its wildlife includes white-tailed deer, bobcats, American black bears and otters. The swamp is also home to a variety of insects and beautiful butterflies, such as the great purple hairstreak.
The Great Dismal Swamp has a lot to offer. You have 6,300 acres of marshland to explore and over 112,000 acres of contiguous forest to wander through. When you reach Lake Drummond at its center, remember to bring your camera – you never know when the Lady of the Lake will make a spooky appearance!
Works Cited
"History." Dismal Swamp Canal Welcome Center, n.d. Web. 17 April 2016. Para. 3.
Hausman, Sandy. "Fleeing TO Dismal Swamp, Slaves And Outcasts Found Freedom." NPR.org. 28 Dec. 2014. Web. 17 April 2016. Para. 4.
Harper, Raymond L. A History of Chesapeake, Virginia. 2007: The History Press, Charleston. Page 125.
Thompson, Frank. "A Ballad: The Lake of the Dismal Swamp." All Things Wildly Considered. 16 June 2013. Web. 17 April 2016. Para. 5.
Thompson, Frank. "A Ballad: The Lake of the Dismal Swamp." All Things Wildly Considered. 16 June 2013. Web. 17 April 2016. Para. 33.
Hausman, Sandy. "Fleeing TO Dismal Swamp, Slaves And Outcasts Found Freedom." NPR.org. 28 Dec. 2014. Web. 17 April 2016. Para. 6.
Longfellow, Henry Wadsworth. "The Slave in the Dismal Swamp." Maine Historical Society, 2000-2016. Web. 17 April 2016.
"Dismal Swamp Company." Digital Encyclopedia. Mount Vernon Ladies' Association, 2016. Web. 17 April 2016. Para. 3.